Raleigh County Veterans' Museum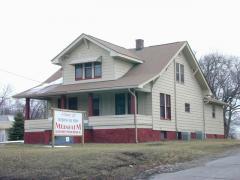 For five decades after World War II, eight men, all veterans and residents of Raleigh County, harbored a dream of having a Veterans Museum located in Beckley, WV. Crews of men, all veterans of the various wars, from WWII through Desert Storm, donated labor to renovate the building. A new roof and carpeting were installed, display cases, office furniture and a state of the art computer system were donated. The grounds around the building were cleared and a large sign painted and placed over the door identifying this building as the "Raleigh County 'All Wars' Veterans Museum" in 2000.
The museum houses artifacts and memoribillia from the nation's military from World War II up to Operation Desert Storm. It traces the military's history from the Revolutionary War to the present.