Ranchos Los Cerritos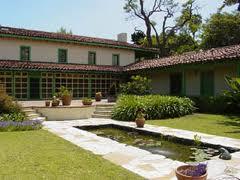 The museum reflects the history of the area's many inhabitants, from Native Americans in 2,000 BC, and the Spanish in 1769, to the cattle ranchers in 1844.
Rancho Los Cerritos Historic Site is a public museum open for tours, programs and events. Built in 1844, the adobe home and grounds echo with the rich history of Spanish, Mexican and American California and with the families who helped transform Southern California from its ranching beginnings to a modern, urban society. The two-story Monterey-style adobe is primarily furnished to reflect occupants and lifestyles from the 1860s-1880s. The site, a National, State and Long Beach Historic Landmark, also includes historic gardens and a research library and archives. It is owned by the City of Long Beach and operated through the Department of Parks, Recreation and Marine.