Reedville Fishermen's Museum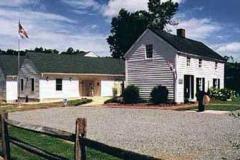 The story of Reedville, Virginia is linked to the commercial fishing industry that developed here in the late 19th century. In 1874, Elijah Reed transferred his menhaden fishing operation from Brooklin, Maine to the Chesapeake Bay. He purchased the land on Cockrell's Creek that is now Reedville. The industry flourished, especially in the early part of the 20th century. Today Reedville is one of the major ports for the landing of commercial fish in the United States, second only to Kodiak, Alaska.
The town's Main Street, a National Historic District, is a mile long and flanked by water. The larger homes along Main Street reflect the prosperity of the early menhaden captains and plant owners. Most of the houses in the Historic District have been carefully restored. Today, operating from Reedville, is a large, modem menhaden fishing fleet with 13 ocean-going vessels. There are three smaller menhaden boats and numerous boats and people engaged in pound-net fishing, crab potting and dredging, soft crab processing, clamming and oystering.