Remick Country Doctor Museum & Farm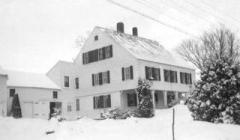 At the Remick Country Doctor Museum & Farm the agricultural way of life in New Hampshire, from 1790 to the present, is preserved. Visitors can see a working farm with sheep, goats, cows, steers, oxen, chickens, and turkeys. In spring and summer, see lambs and pigs. Walk into the 1830's garden and view the historic crops and vegetables. Take a leisurely 6/10 mile hike on the Binsack Trail, a low impact experience offering spectacular views of Remick Farm, Mount Chocorua, and the Ossipee Mountain Range.
Remick Farm has a cattle barn, milk house, maple sugar house, stable, and a historic English Barn. Many of these buildings are open in spring, summer, and during special events. Take a tour of these facilities with a Remick Museum Tour Guide, who provides you with exclusive access and information on historic farm tools and equipment.
Come inside the Museum Farm House, where you can tour the living quarters of Dr. Edwin Crafts Remick and his wife, Marion Ella Miles Remick. See the modest furnishings of their country life; view the medical equipment of the doctor. In the Visitor's Center, view exhibits on The Farmer's Year, and other changing, seasonal exhibits.