Reynolda House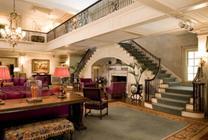 Reynolda House Museum of American Art displays a premier collection of American art ranging from the colonial period to the present. Built in 1917 by Katharine Smith Reynolds and her husband Richard Joshua Reynolds, founder of the R. J. Reynolds Tobacco Company, the house originally occupied the center of a 1,067-acre estate. It opened to the public as an institution dedicated to the arts and education in 1965, and as an art museum in 1967.
Reynolda was the home of two generations of the Reynolds family. In 1935, Mary Reynolds Babcock, the elder daughter, acquired the estate. She and her husband Charlie Babcock used the house as their vacation home until 1948 at which time they moved permanently to Reynolda. The property remained in the family for nearly fifty years. The museum has restored interior rooms and furnishings to reflect the periods when the family lived here.
Today, a large portion of Reynolda can be explored on foot. In addition to the house, twenty-eight of the original thirty buildings remain. To the west lie the restored formal gardens, noted for their Japanese cryptomeria and weeping cherry trees. The sixteen-acre lake behind the house has reverted to wetlands, which provide a home for a variety of wildlife. Many of the buildings in the village are now occupied by shops and restaurants. A short walk across the dam leads from the village to Wake Forest University built on land donated to the college by Mary and Charlie Babcock.