Roaring Twenties Antique Car Museum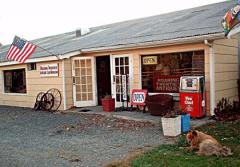 Visitors will find examples of Carter, Star, Stephen, Cleveland, hupmobile, Paige, Nash, Essex, Packard, and Cadillac among the unique cars displayed at this museum. Most of the vintage cars date from the 1920s and 1930s. Along with the 32 cars on display, Stationary Engines, Horse-Drawn Equipment, Old Farm Tools, Period Advertising and a myriad of relics fill the walls of the museum as well.
The exhibit at the museum presents the preservation of many once-everyday items whose purpose and meanings were almost forgotten as the race towards progress rendered them obsolete. However, collector John Dudley sought these treasures to add to his accumulation, and in 1967 the Dudley family first opened the car museum. Dudley's 50+ years of collecting are evident in the interesting selection and showcase of cars and memorabilia.