Ross County Historical Society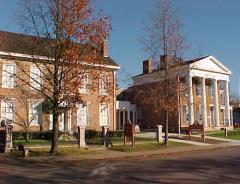 From the lobby of the new center, visitors may tour exhibits on the Northwest Territory & Ohio statehood, the founding of Ohio's first capital Chillicothe, the prehistoric cultures of the Scioto River valley, the Civil War years in Ross County, Camp Sherman & World War I, historical toys & dolls, early Ohio decorative arts, historical art portraits, and historical vehicles & transportation. Visitors may also choose to visit the society's Knoles Log House which features many artifacts that illustrate life in early Ohio, plus the Franklin House - the Society's museum dedicated to women's history.
Heritage Center patrons may also visit the Society's McKell Library - a research center and repository of thousands of rare books, journals, manuscripts, historical documents, and photographs.
The Ross County Heritage Center also features a museum store where visitors may purchase books, maps and reproduction artifacts related to the museum exhibits found within. The center is also fully ADA accessible from its main entrance through all public areas including the second floor exhibits in the original museum building. New off-street parking for automobiles and buses is also ADA accessible and is but a short distance from the front entrance.