Rutherford B. Hayes Presidential Center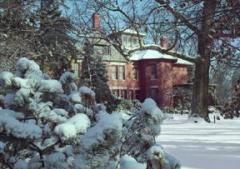 The museum of the Rutherford B. Hayes Presidential Center was started by the President's second son, Colonel Webb Cook Hayes and his siblings, shortly after the turn of the 20th century. In several transactions, Colonel Hayes and his brothers and sister deeded over to the state of Ohio, Spiegel Grove, the President's estate and all its holdings. Ground was broken in 1912 for the museum building and the first presidential library/museum in the United States opened in 1916 funded by the state of Ohio and Webb C. Hayes.
Major additions in 1922 and 1968 brought the building to its present configuration of exhibit galleries (two floors), research library (one floor), and storage areas (four floors) comprising 52,640 square feet.
In keeping with our mission, the museum uses its resources, including 13,000 artifacts, 1,785 of them on permanent display, to illustrate the life and times of Rutherford B. Hayes, his family, and Ohio history.
As President, Hayes contended with the aftermath of Reconstruction in the South, the problems of our Black citizens, and the plight of the American Indian. He fought against inflation, vetoed the controversial Chinese Immigration Exclusion Act, and promoted Civil Service reform. Before his election, President Hayes espoused a single six-year term for presidents and true to his word he retired after four years.
Hayes believed strongly that an ex-president should continue to serve his town, state, and country. As an ex-president, the Squire of Spiegel Grove remained active in local affairs, and on the national level traveled extensively to participate in veterans' affairs and promote prison reform, and advocated both vocational and scholastic education for black and white, rich and poor, North and South.
On a regular basis, the museum staff creates temporary exhibits on the Hayes family, the Hayes Administration, Ohio history, the Gilded Age, the Civil War, and personalities of the 19th Century. The Center also rents or borrows temporary exhibits that are appropriate to its mission.