Sixth Floor Museum At Dealey Plaza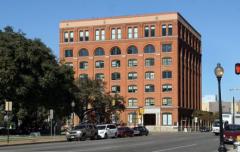 On November 22, 1963, the Texas School Book Depository building was the focus of world shock, grief, and outrage when President John F. Kennedy was assassinated in Dealey Plaza. Twenty-six years later, John F. Kennedy and the Memory of a Nation opened on the building's sixth floor, where significant evidence was found.
The Sixth Floor Museum at Dealey Plaza chronicles the assassination and legacy of President John F. Kennedy; interprets and supports the Dealey Plaza National Historical Landmark District and the John F. Kennedy Memorial Plaza; and presents contemporary culture within the context of presidential history.