Spady Cultural Heritage Museum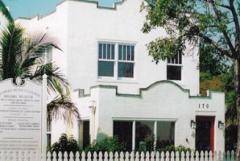 The periodic "Ride and Remember" trolley tours take visitors through five of the city's districts and narrate the African American history of each.
A resource for people seeking information about the city's early black history and culture.The Spady Cultural Heritage Museum is the former home of the late Solomon D. Spady who was the most prominent African American educator and community leader in Delray Beach from 1922 to 1957. The house is an historic two-storied Mission-Revival styled home completed in 1926 and is located on the Spady Cultural Heritage Complex in Delray Beach, Florida.