St. Augustine Lighthouse And Museum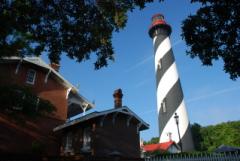 A Spanish watchtower, built in the late 1500's was the predecessor of the present St. Augustine Lighthouse. St Augustine is the site of the oldest aid to navigation in North America. The original watchtower became Florida's first lighthouse in 1824. However, by 1870, the tower was threatened by shoreline erosion and construction began on the current lighthouse. The new tower was completed in 1874. The old tower succumbed to the sea during a storm in 1880.
Constructed of Alabama brick and Philadelphia iron, the lighthouse is St. Augustine's oldest surviving brick structure. In 1876, a brick light keeper's house was added to the site. Light keepers' and their assistants lived and worked there until the tower was automated in 1955.
The St. Augustine Lighthouse rises 165 feet above sea level and contains 219 steps. At the top, a first order Fresnel lens serves the beacon. The St. Augustine lens consists of 370 hand-cut glass prisms arranged in a beehive shape towering twelve feet tall and six feet in diameter.
In 1980, the Junior Service League of St. Augustine, Inc. began a fifteen-year campaign to restore the keeperís house that was destroyed by fire in 1970 and the tower. The house was opened to the public as a museum in 1988. In 1993, the tower was also opened to visitors on a daily basis.
In July 2002 the U.S. Coast Guard, through the General Services Administration, transferred the deed for the tower to the St. Augustine Lighthouse and Museum, Inc. through the pilot program of the National Historic Lighthouse Preservation Act of 2000. In addition, the Coast Guard turned over the first order Fresnel lens to the museum.