St. Elizabeth Catholic Church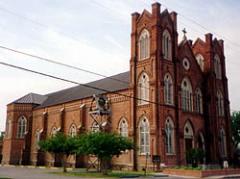 St. Elizabeth Catholic Church is a large brick basilican plan Gothic style church near the center of the small bayou town of Paincourtville. Purely Gothic in origin, St. Elizabeth stands out from other large Roman Catholic churches of the period, which can best be described as mixtures of Gothic, Romanesque, Renaissance and Baroque architectural features.
The largely Catholic population of southern Louisiana was instrumental in the construction of numerous, large Catholic churches throughout this area in the late 19th and early 20th centuries. St. Elizabeth, built in 1902, was constructed of brick on a basilica plan with an impressive façade. The twin towers and the bays are set off by ornamental buttresses which have inset lancet shaped panels. In the interior, the vaulting and piers are almost entirely of wood and are covered with stenciled paintwork that is light and Victorian in character. Most of the stained glass windows date from 1906 and 1910. The windows are extremely intricate with painted scenes and figures, complete with drapery, facial features, architectural settings, foliage, sky, and elaborate trim. In 1914 the present decorative paintwork was executed. Much of the painting is stenciled and has a rather Victorian character except that the colors are more muted then one would expect in a 19th-century painting.