St. Michaels Museum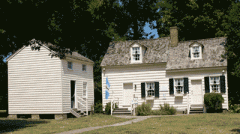 This local history museum highlights a crucial War of 1812 battle as well as the life that Frederick Douglass led as a slave on a nearby plantation.
St. Michaels Museum at St. Mary's Square is located in the heart of this historic town on what locals call ''The Green.'' It provides a fascinating look at life in St. Michaels in the 1800s, especially at the important Battle of St. Michaels during the War of 1812.
The museum consists of three vernacular buildings moved to the Square from their original locations in St. Michaels. Exhibits highlight life in the mid-19th Century. Special exhibits are presented 2-3 times during the season.

Visit the Museum to obtain a free self-guided walking tour map of Historic St Michaels, or email stmichaelsmuseum@atlanticbb.net to schedule a walking tour with a docent. Currently, walking tours focus on Frederick Douglass's life as a slave in St. Michaels and on the historic St. Michaels Waterfront.