State Capital Museum and Outreach Center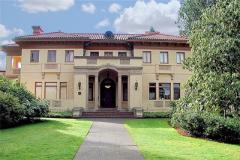 Located in the historic Lord Mansion, seven blocks south of the capital campus in Olympia, the museum is preserves and interprets the history and culture of Washington.
The mansion is surrounded by Gracious lawns and ethnobotanical gardens featuring native Northwest flora surround the museum. Inside the mansion are two floors of exhibits, which bring to life regional Native American history and history on Olympia as Washington's capital. A series of provocative temporary exhibits are also showcased; these exhibits encourage visitors to examine history through different cultural, social, and political lenses.
The building also houses outreach programs of the Washington State Historical Society, including the Women's History Consortium, Heritage Resource Center, National History Day, and Traveling Exhibits Service.