Stewart Indian School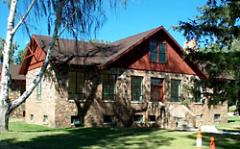 The Stewart Indian School complex consists of 83 buildings on a 109-acre landscaped campus. The school was organized as the Stewart Institute in 1890 and operated until 1980. However, the Institute itself was the only Federal Indian school created by act of State legislature. Children from Nevada and throughout the West were forced to attend the Stewart Institute up to secondary school age. Students came from many tribes including the Nevada-based Washoe and Paiute tribes, as well as Hopi, Apache, Pima, Mohave, Walapai, Ute, Pipage, Coropah and Tewa. The school was intended to teach basic trades and to assimilate young American Indians into mainstream American culture. Assimilation policies such as prohibition of speaking native languages and practicing native customs anguished both students and their parents. The Federal policy toward American Indians radically changed with the Indian Reorganization Act of 1934, after which self-determination and self-government were supported. In later years, the Bureau of Indian Affairs encouraged schools such as Stewart to let students speak their native languages and to promote classes in native cultures.
The initial Stewart Indian School complex included two dormitories, a barn, carpenter's shop, harness and tool house, root shed, laundry, wood and coal shed, storehouse, girls' and boys' baths and a three-story 10,000-gallon water tower. Frederick Snyder, who served as the school superintendent from 1919 to 1934, was responsible for the school's transformation into an architectural and horticultural showplace. Snyder began the practice of using colored native stone (quarried along the Carson River) for campus buildings, and much of the masonry used in the vernacular-style buildings is the work of student apprentices. The majority of the surviving buildings were built between 1922 and the beginning of World War II. The Stewart Indian School Museum, located in superintendent Snyder's home, was built by Indian students in 1930. National Park Service grants, including a Save America's Treasures grant, were used in the restoration of this building and others on campus. The large, older trees on this campus make this a great picnic location.