Stony Point Battlefield State Historic Site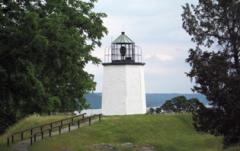 Sir Henry Clinton, commander of the British forces in America, attempted to coerce General George Washington into one decisive battle to control the Hudson River. As part of his strategy, Clinton fortified Stony Point. Washington devised a plan for Wayne to lead an attack on the fort. Armed with bayonets only, the infantry captured the fort in short order, ending British control of the river.
The site features a museum, which offers exhibits on the battle and the 1826 Stony Point Lighthouse, as well as interpretive programs, such as reenactments highlighting 18th century military life, cannon and musket firings, cooking demonstrations, and children's activities.