Tao House Eugene O'Neill National Historic Site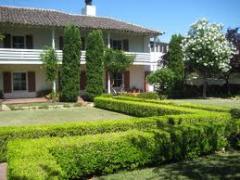 One of America's foremost playwrights, Eugene O'Neill, purchased the Tao House in Danville using his Nobel Prize award of $40,000. The site now celebrates O'Neill's vision and legacy.
Eugene O'Neill needed a place to write which offered a quiet environment, good weather and access to doctors. While in Seattle he had received the Nobel Prize for Literature in November, 1936, and had been so lionized and besieged by reporters that he and Carlotta fled to the San Francisco Bay Area. O'Neill had called Danville his final home and harbor and, indeed, it was the place where he successfully completed five significant works: "A Moon for the Misbegotten," "The Iceman Cometh," "Hughie," "A Touch of the Poet" and "Long Day's Journey Into Night." After leaving Danville he never wrote another play. Visitors are invited to explore O'Neill's life and his creative haven in Danville.