Tennessee State Museum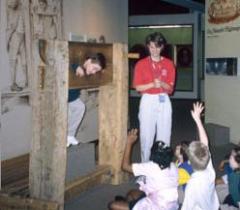 The beginnings of the Tennessee State Museum can be traced back to a museum opened on the Nashville public square in 1817 by a portrait artist, Ralph E.W. Earl. A young boy who visited that museum in 1823 wrote home that he had seen a life-size painting of then General Andrew Jackson. That same painting hangs today in the State Museum, now located at the corner of Fifth and Deaderick streets.
In 1937 the General Assembly created a state museum to house World War I mementoes and other collections from the state, the Tennessee Historical Society and other groups. This museum was located in the lower level of the War Memorial Building until it was moved into the new James K. Polk Center in 1981. The Tennessee State Museum currently occupies three floors, covering approximately 120,000 square feet with more than 60,000 square feet devoted to exhibits.