Texas Seaport Museum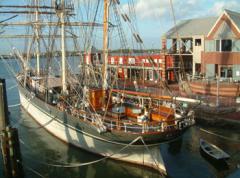 Explore the decks of this floating National Historic Landmark. Walk Elissa's decks and imagine the days when daring sailors challenged the world's oceans. In the adjacent museum and theater, witness the story of Elissa's dramatic rescue from the scrapyard and her meticulous restoration.
Located in the historic port of Galveston, the Texas Seaport Museum also tells the story of a rich legacy of seaborne commerce and immigration. Look for ancestors with a one-of-a-kind computer database containing the names of more than 133,000 immigrants who entered the United States through Galveston,"'The Ellis Island of the West"'. Join the Museum's staff and volunteers as they bring the past to life through special exhibits and educational programs.