Union Church Of Pocantico Hills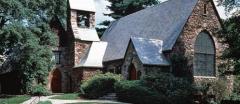 Visitors marvel at the colorful rose window created for the church by Henri Matisse. The design for the window was his last work of art before his death in 1954. The commission, spearheaded by Nelson A. Rockefeller, honors the memory of his mother, Abby Aldrich Rockefeller. Mrs. Rockefeller, one of the founders of the Museum of Modern Art , admired Matisse, collected his work, and entertained him in her home in New York City.
The glorious Good Samaritan window by Marc Chagall is a memorial to Abby Aldrich Rockefeller's husband, John D. Rockefeller, Jr. Their son David Rockefeller masterminded the commission in 1963, which later expanded to include all eight windows in the nave of the church. They memorialize, among others, Michael Clark Rockefeller, Governor Nelson A. Rockefeller, Peggy Rockefeller (Mrs. David Rockefeller), and Mary Rockefeller (Mrs. Laurance Rockefeller). Chagall and members of the Rockefeller family carefully selected the subject matter for the windows from Biblical texts.
The enthralling story of the windows, and how they came to be here, is the story of relationships among distinguished patrons and collectors of modern art, two great 20th-century artists, and the leading connoisseurs and tastemakers of the day. For Kykuit visitors, a tour of the church enhances their knowledge of the Rockefeller legacy; all who visit the Union Church enjoy a unique and surprising aesthetic and spiritual experience.