Union Landing Historical Society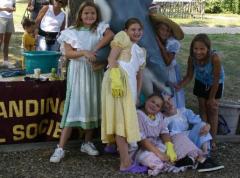 In 1973, a group of citizens interested in preserving and studying the history of Brielle and its environs met to form what was to become The Union Landing Historical Society. September 1973 marked the first formal meeting of the Union Landing Historical Society at the Curtis House, located on Union Lane at Brielle Park. Since then the society has grown and includes members from New Jersey and all over the United States with a common interest in learning about and researching the history of the Borough of Brielle.
The society sponsors field trips to sites of local historical interest, school programs and library displays. An annual Antiques Roadshow features professional appraisers who evaluate and price items of interest brought in by the public. The society awards an annual scholarship to a graduating Brielle high school senior for academic excellence in history. Other annual events include the society's Old Fashioned Sarsaparilla Sale at Brielle Day and the October Harvest Home Dinner.