United States Military Academy At West Point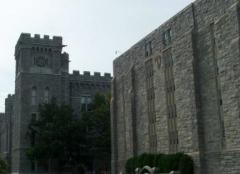 General George Washington considered West Point to be the most important strategic position in America. Washington personally selected Thaddeus Kosciuszko, one of the heroes of Saratoga, to design the fortifications for West Point in l778, and Washington transferred his headquarters to West Point in l779. Continental soldiers built forts, batteries and redoubts and extended a l50-ton iron chain across the Hudson to control river traffic. Fortress West Point was never captured by the British, despite Benedict Arnold's treason.
Several soldiers and legislators, including Washington, Knox, Hamilton and John Adams, desiring to eliminate America's wartime reliance on foreign engineers and artillerists, urged the creation of an institution devoted to the arts and sciences of warfare. President Thomas Jefferson signed legislation establishing the United States Military Academy in 1802. He took this action after ensuring that those attending the Academy would be representative of a democratic society.
Colonel Sylvanus Thayer, the "father of the Military Academy," served as Superintendent from l8l7-l833. He upgraded academic standards, instilled military discipline and emphasized honorable conduct. Aware of our young nation's need for engineers, Thayer made civil engineering the foundation of the curriculum. For the first half century, USMA graduates were largely responsible for the construction of the bulk of the nation's initial railway lines, bridges, harbors and roads. After gaining experience and national recognition during the Mexican and Indian wars, West Point graduates dominated the highest ranks on both sides during the Civil War. Academy graduates, headed by generals such as Grant, Lee, Sherman and Jackson, set high standards of military leadership for both the North and South.
Today, the Academy continues to prepare its graduates to serve as commissioned leaders of character in America's 21st Century Army.