U.S. Army Artillery Museum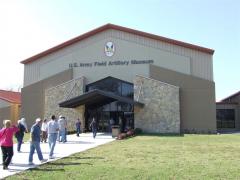 The U.S. Army Artillery Museum tells the story of Artillery from 1775 to the present with over 70 guns and artillery pieces and numerous other artifacts from head gear and ammo to small arms and uniforms.
The collection is housed in three galleries. The Central Gallery features the four principle components of Artillery: Guns, Rockets, Forward Observation, and Fire Direction Control.
The South Gallery history is from the 1700s to the 1900s. The North Gallery starts with World War I and continues to the present day Artillery, which includes a prototype of the M777 Howitzer.