USS Arizona Memorial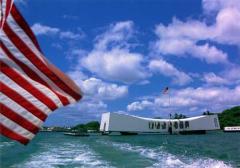 The Memorial commemorates the site where World War II began for the United States and is the final resting place for many of the battleship's 1,177 crew members who lost their lives.
The 184-foot-long Memorial structure spanning the mid-portion of the sunken battleship consists of three main sections: the entry and assembly rooms; a central area designed for ceremonies and general observation; and the shrine room, where the names of those killed on the Arizona are engraved on the marble wall. President Dwight D. Eisenhower, who helped achieve Allied victory in Europe during World War II, approved the creation of the Memorial in 1958. Its construction was completed in 1961 with public funds appropriated by Congress and private donations. The Memorial was dedicated in 1962. The site contains several elements: a visitors center that shows a documentary film, a museum that displays photograps and other artifacts from the battle, a bookstore, and an outdoor exhibit on the water's edge.