Vermont History Museum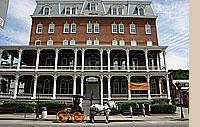 The Vermont Historical Society engages both Vermonters and "Vermonters at heart" in the exploration of the state's rich heritage. Their purpose is to reach a broad audience through outstanding collections, statewide outreach, and dynamic programming. They believe that an understanding of the past changes lives and builds better communities.
Their permanent exhibit, Freedom and Unity: One Ideal, Many Stories, opened in March 2004. The multimedia exhibit, which represents Vermont's history from 1600 to the present, fills 5,000 square feet in the Pavilion building in Montpelier. Visitors walk through time and experience a full sized Abenaki wigwam, a re-creation of the Catamount Tavern where Ethan Allen's Green Mountain Boys gathered, a railroad station complete with a working telegraph and a WWII living room furnished with period music and magazines.