Virginia Street Bridge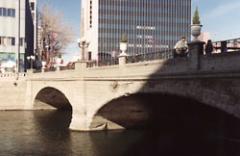 There has been a bridge at this site since 1860, when C. W. Fuller constructed the first recorded span of the Truckee River. Architect John B. Leonard of San Francisco chose a Beaux Arts design in keeping with the urban setting of the bridge. Leonard's design employed concrete scored to resemble masonry. Other traditional characteristics of masonry construction include the classical arches and the pilasters rising to the level of the ornate iron railing. Above the arches, the bridge is a concrete shell, earth filled to the roadway and sidewalk level. The quality of design and aesthetics make this bridge unusual in Nevada.
The bridge has always been a major crossing of the Truckee River in downtown Reno. When it was built, Reno was a small but thriving transportation hub, with three major railroads. It did not take long following its construction for the bridge to gain a national reputation. From about 1906 until the 1960s, Reno was known as the Divorce Capital of the World, and the Virginia Street Bridge was the main symbol of the trade. Known as "Wedding Ring Bridge," and the "Bridge of Sighs," the Virginia Street Bridge has been the subject of national folklore that continues to the present day. The legend, which goes as far back as the 1920s and maybe earlier, holds that divorcees, upon receiving their final decree from the judge, exited the Washoe County Courthouse, kissed the columns supporting the portico and proceeded post haste past the Riverside Hotel to the Virginia Street Bridge, whence they cast their wedding rings into the Truckee River.