Wallace District Mining Museum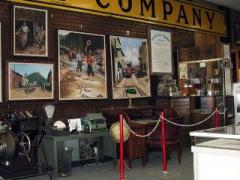 The Wallace District Mining Museum captures the flavor of the mining industry in Northern Idaho from the days of the early gold rush to the more recent period of world-record silver production. Artifacts, models, photographs, paintings and displays of mining activity and techniques take you back in time and deep into the history of one of the most lucrative mining districts in the country. Documentary video on area history included in Admission fee.
The Silver Valley is the richest silver mining region in the world. In just one hundred twenty years, over 1.1 billion ounces of silver have been produced from mines in this valley. The museum captures the impact of mining history with artifacts and exhibits depicting the hardships, toils and home life of the period. An exhibit of photographs and commissioned paintings helps bring the reality of those early days to light. A selection of video programs are shown daily in the thirty seat theater on a four by six foot projection TV system.