Waters House History Center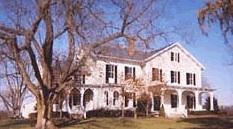 The Waters House was built in three parts, the oldest dating to the mid-1790s. Basil Waters (1761-1844), who built the small brick section of the house and named the farm Pleasant Fields, had inherited 200 acres of land (in the area now known as Germantown) from his father, William Waters, of Brookeville, Maryland. Basil's brothers, Zacariah, and William were also given land and established farms and homes nearby. A fourth brother, Ignatius, inherited the family home, Belmont, in Brookeville. Although many descendants of the Waters brothers still live in this area, only Basil's house, Pleasant Fields, still stands.
The Germantown campus of the Historical Society is made up of the Waters House, a ca. 1790s farmhouse (with later additions), and several original outbuildings. The Waters House includes exhibit galleries, a research library, and a museum shop. The house is not furnished as a traditional historic house museum. Tours of the exhibits are self-guided; a walking tour, also self-guided, of the grounds is available.