West Baton Rouge Museum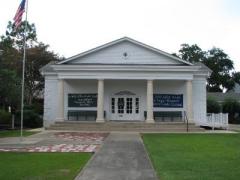 The West Baton Rouge Museum houses the only permanent collection of objects, photos, documents, and art that chronicle the history and culture of the entirety of West Baton Rouge Parish and the ways in which the parish relates to the state, national, and global history. Collection items range in date from the late 18th century to modern time. The permanent collection is owned by the West Baton Rouge Historical Association and supports the museum's primary interpretive themes, which include rural life and urban development in West Baton Rouge Parish, sugar plantation history, and local folklife.
The museum has a collection of historic structures, which includes the Aillet House, circa 1830; an Allendale Plantation Cabin, circa 1850; an Allendale Plantation Cabin, circa 1870; an Allendale Plantation Cabin, circa 1950; and the Reed Shotgun House, circa 1938. The museum also collects items for the education collection that are used as hands-on exhibit objects and for educational programs. The museum's historical research collection includes a non-circulating library of books, maps, documents, photographs, scrapbooks, and extensive files on places, architecture, families, individuals, and events that pertain to West Baton Rouge Parish and surrounding areas.