West Virginia Museum Of American Glass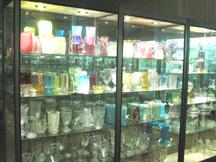 The Museum showcases hundreds of pieces of American-made glass arranged by form and or by company. Most of the pieces are from glass houses that once operated in the region of Western Pennsylvania, Ohio and West Virginia.
Highlighted are pieces from the Blenko company which has produced colored glass for stained glass windows and architecture since it was founded in 1893 in Milton, WV. The lovely shapes and colors of its decorative and utilitarian wares can be found in homes throughout the country.
The Museum is located 1/2 block from the corner of 2nd Street in downtown Weston, West Virginia.