West Virginia State Farm Living History Museum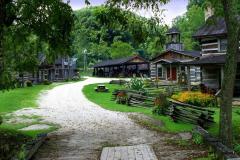 The early pioneer farm life and heritage of West Virginia are preserved in this 50 acre farm which becomes a living history museum on festival weekends.
This farm museum complex is located just 4 miles north of Point Pleasant, WV off of 62N.  Buildings of historical value have been moved and rebuilt on the grounds, including log cabins and an early farmhouse, an operational 19th century blacksmith shop, turn-of-the-century doctor's and newspaper offices, and the first Lutheran Church west of the Allegheny Mountains.