Western Reserve Fire Museum & Education Center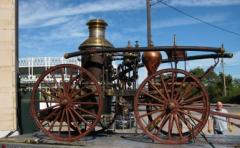 Located directly across from Jacobs Field, at the foot of the Lorain-Carnegie Bridge, the station is easy to find and promises to become a nexus of firefighting history and fire safety education for Northeast Ohio. The fire education center is a model for a unique public/private partnership, showing how citizens can partner with regional and local governments to provide their community with much needed fire safety and prevention education services.
To fulfill this goal the museum has forged a very important relationship with the Cleveland Fire Department (CFD) and as a result, its Public Education Office will be based in the facility.