Wright Museum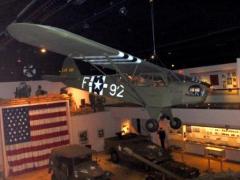 The WrightMuseum's mission is to preserve and share the stories of America's Greatest Generation for the benefit of generations to come. As a one-of-a-kind non-profit institution, the WrightMuseum collects and displays artifacts that illustrate the Second World War's significant and lasting impact on American life.
During WWII, Americans from all walks of life pulled together to defend freedom against a global threat to our commonly-held values of life, liberty, and the pursuit of a better life. Hardened by the privations of the Great Depression, Americans were primed for the sacrifices necessary to thwart the forces assembled against them.
Sixty-two years after the end of World War II, we are losing 1,000 veterans each day. Now is the time for their children and grandchildren to come together to celebrate their achievements and remember the sacrifices of those who helped defend our commonly-held values.
Whether it was on the front lines of battle or through efforts on the home front to conserve fuel and rubber, Americans pulled together to realize a common goal as never before--or since.