Wyoming Veterans' Memorial Museum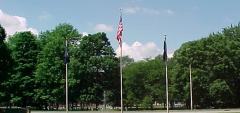 The museum is located on the grounds of the former Casper Army Air Base, constructed during the Second World War. The building that now houses the Wyoming Veterans Memorial Museum was originally the Servicemen's Club for enlisted personnel. It is the most interesting of the approximately 100 Second World War buildings that are still perserved at the airport. It contains 15 wall murals that depict aspects of Wyoming history. The murals were painted over an eight month periord by four enlistd men, only one of which had some previous training in art. The murals were dedicated in June 1944.
While the museum contains artifacts, uniforms, memorabilia and personal and historic records from the military service and conflicts, it focuses on the personal stories of the nation's servicemen and women. It's scope is not restricted to the Air Force, but covers all branches of the military. The museum's collection follows the history of the U.S. military, from the frontier outposts to the present.